The kitchen is often considered the heart of the home, a place where delicious meals are prepared and memories are made. Vintage-inspired kitchen designs offer a nostalgic twist, bringing back the charm and elegance of bygone eras. If you're looking to create a kitchen that exudes warmth and character, while still being functional and stylish, consider incorporating some of these vintage-inspired design ideas.
1. Farmhouse Chic
One of the most popular vintage-inspired kitchen designs is the farmhouse chic style. This design combines rustic elements with a touch of elegance, creating a space that feels cozy and inviting. To achieve this look, opt for a farmhouse sink, open shelving, and antique-inspired lighting fixtures. Use natural materials such as reclaimed wood and distressed finishes to add to the rustic charm.
2. Retro Appliances
Give your kitchen a nostalgic twist by incorporating retro appliances. From colorful refrigerators to vintage-inspired stoves, these appliances not only add a pop of color but also enhance the vintage vibe of the space. Look for brands that offer modern features while maintaining a retro aesthetic.
3. Vintage Wallpaper
Add a touch of whimsy and charm to your kitchen with vintage-inspired wallpaper. Choose patterns that mimic the designs popular in the 1950s and 1960s, such as floral prints or geometric shapes. Wallpaper can be used on an accent wall, inside cabinets, or even on the ceiling to create a unique and eye-catching look.
4. Classic Color Palette
When it comes to vintage-inspired kitchen design, the color palette plays a crucial role. Opt for classic colors such as pastels, muted tones, or bold primary colors to create an authentic vintage feel. Consider using these colors on cabinets, walls, or even appliances to add a pop of retro charm.
5. Vintage Lighting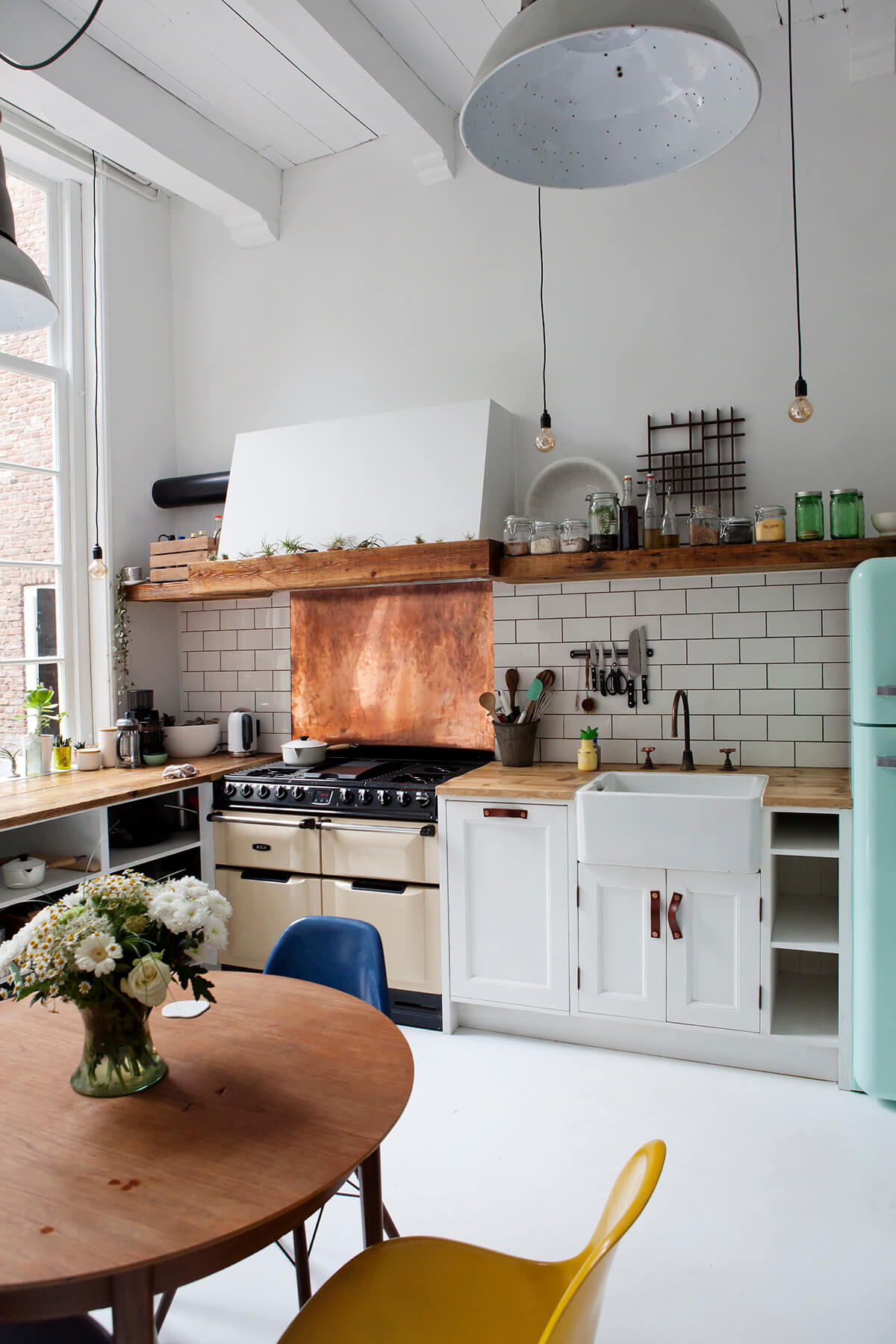 Lighting fixtures are an essential element in any kitchen design. To achieve a vintage-inspired look, choose lighting fixtures that evoke the charm of the past. Look for fixtures with brass or bronze finishes, intricate detailing, or even industrial-inspired designs. Pendant lights, chandeliers, and sconces can all add a touch of vintage elegance to your kitchen.
6. Salvaged Materials
Adding salvaged materials to your kitchen design can give it a unique and authentic vintage feel. Consider using reclaimed wood for countertops or open shelving. Repurpose vintage doors or windows as decorative elements or room dividers. Incorporating salvaged materials not only adds character but also promotes sustainability.
7. Vintage Accessories
To complete the vintage-inspired look, pay attention to the accessories in your kitchen. Consider displaying vintage dishes, glassware, or cookware on open shelves or in glass-front cabinets. Look for vintage-inspired kitchen gadgets or small appliances that add to the nostalgic feel. Vintage-inspired linens, such as aprons or tea towels, can also enhance the overall aesthetic.
8. Retro Flooring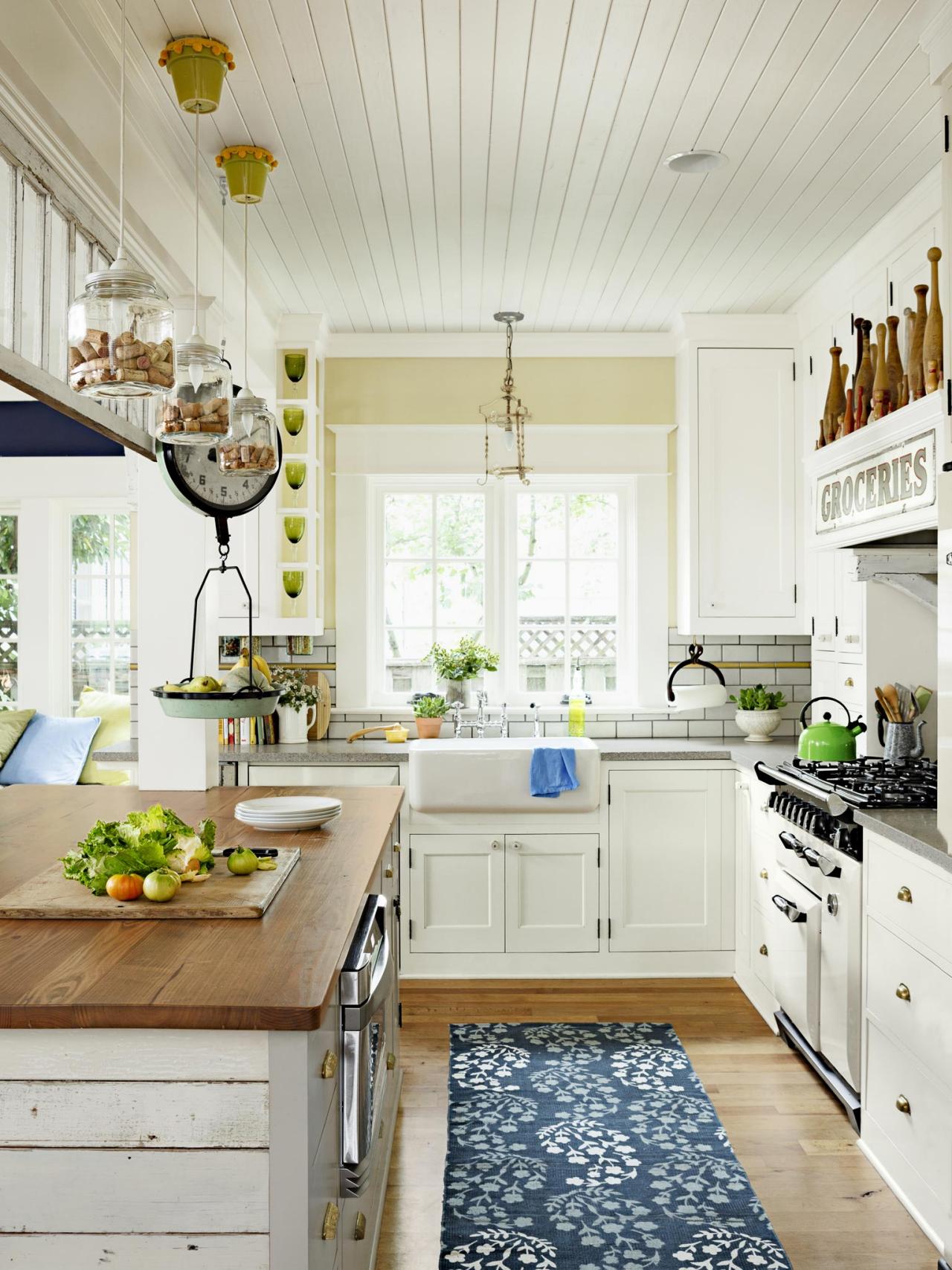 The flooring in your kitchen can make a significant impact on the overall design. For a vintage-inspired look, consider using retro-style flooring, such as checkerboard tiles or linoleum patterns reminiscent of the mid-century era. These flooring options not only add visual interest but also contribute to the nostalgic atmosphere.
9. Vintage-Inspired Hardware
Don't overlook the importance of hardware in your kitchen design. Cabinet knobs, drawer pulls, and faucet handles can all be sources of vintage-inspired charm. Look for hardware with intricate designs, antique finishes, or unique shapes to add a touch of nostalgia to your kitchen.
10. Vintage-Inspired Furniture
Incorporating vintage-inspired furniture pieces can elevate the overall design of your kitchen. Look for antique tables, chairs, or even a vintage-inspired kitchen island to create a focal point. Consider mixing and matching different styles and finishes to create a curated and eclectic look.
Summary
Vintage-inspired kitchen designs offer a charming and nostalgic twist to any home. By incorporating farmhouse chic elements, retro appliances, vintage wallpaper, classic colors, and vintage lighting, you can create a kitchen that exudes warmth and character. Adding salvaged materials, vintage accessories, retro flooring, vintage-inspired hardware, and furniture pieces further enhance the overall vintage aesthetic. Whether you're a fan of the mid-century era or prefer the rustic charm of farmhouse kitchens, these design ideas are sure to bring a touch of nostalgia to your kitchen space.
Gallery