The bathroom is one of the most important spaces in any home. It is a place where we start and end our day, and it should be a sanctuary of relaxation and comfort. One of the key elements in creating a modern and stylish bathroom is the choice of tiles. With so many options available, it can be overwhelming to find the perfect tile design. To help you in your quest for a modern bathroom, here are six tile design inspirations that are sure to give your space a fresh and contemporary look.
1. Subway Tiles
Subway tiles have been a popular choice for bathroom designs for many years, and they continue to be a go-to option for a modern look. These rectangular tiles, typically in a white or neutral color, are versatile and can be used in various ways to create different effects. For a classic and timeless look, consider installing subway tiles in a traditional brick pattern. If you want to add a touch of modernity, try a herringbone or chevron pattern.
2. Geometric Tiles
If you want to make a bold statement in your bathroom, geometric tiles are the way to go. These tiles come in a variety of shapes, such as hexagons, triangles, and diamonds, and can be arranged in different patterns to create a dynamic and eye-catching design. Geometric tiles work well as a feature wall or as an accent in a shower or behind the vanity.
3. Marble Tiles
Marble has long been associated with luxury and elegance, and incorporating marble tiles into your bathroom design can instantly elevate the space. Whether you choose a classic white marble or opt for a more dramatic black or colored marble, this natural stone adds a touch of sophistication to any bathroom. Marble tiles can be used as flooring, wall cladding, or even as a countertop material.
4. Mosaic Tiles
If you want to add texture and visual interest to your bathroom, mosaic tiles are a great option. These small tiles, usually made of glass or ceramic, come in a wide range of colors and patterns. Whether you choose a simple monochrome design or a vibrant mosaic, these tiles can transform your bathroom into a work of art. Mosaic tiles work well as a border or as an accent in a shower or bathtub surround.
5. Wood-look Tiles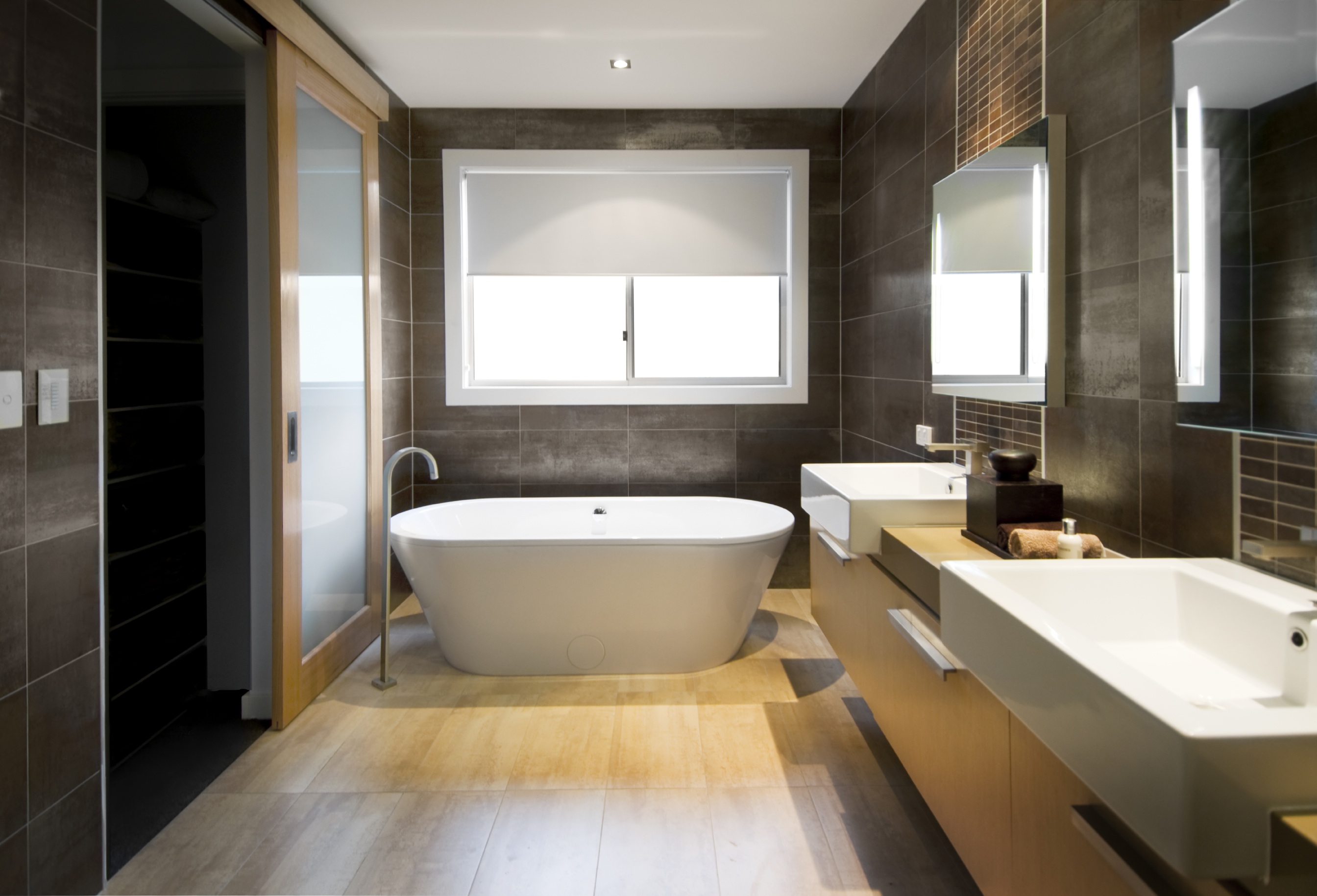 If you love the look of wood but want the durability and ease of maintenance of tiles, wood-look tiles are the perfect solution. These porcelain or ceramic tiles mimic the appearance of wood, complete with grain patterns and knots. Wood-look tiles are perfect for creating a warm and inviting atmosphere in your bathroom. They can be used as flooring or even as a feature wall.
6. Metallic Tiles
To add a touch of glamour and sophistication to your bathroom, consider using metallic tiles. These tiles, available in a range of finishes such as copper, bronze, and silver, can create a stunning focal point in your bathroom. Metallic tiles work well as an accent in a shower or behind the vanity, or even as a backsplash.
Summary
Choosing the right tiles for your bathroom can make a significant difference in creating a modern and stylish space. Whether you opt for classic subway tiles, bold geometric tiles, elegant marble tiles, textured mosaic tiles, warm wood-look tiles, or glamorous metallic tiles, each option offers a unique and contemporary look. Remember to consider factors such as color, pattern, and texture to create a cohesive and visually appealing design. By carefully selecting and arranging your tiles, you can transform your bathroom into a modern oasis of relaxation and style.
Gallery