Introduction
Mediterranean decor is known for its warm and inviting ambiance, characterized by a harmonious blend of natural elements and rustic charm. Plaster, stone, and wood are key materials that play a significant role in creating this distinct style. In this article, we will explore how plaster, stone, and wood are used in Mediterranean decor and the impact they have on the overall aesthetic. We will delve into the benefits, versatility, and design possibilities that these materials offer, providing valuable insights for those seeking to incorporate Mediterranean elements into their homes.
The Beauty of Plaster
Plaster is a versatile material that has been used for centuries in Mediterranean architecture. Its smooth and elegant finish adds a touch of sophistication to any space. Plaster can be applied to walls, ceilings, and even furniture, creating a cohesive look throughout the home. One of the key advantages of plaster is its ability to regulate humidity. In the Mediterranean climate, where temperatures can be hot and humid, plaster helps to maintain a comfortable environment by absorbing excess moisture and releasing it when needed.
When it comes to color options, plaster offers a wide range of possibilities. It can be left in its natural off-white shade, providing a blank canvas for other elements in the room to shine. Alternatively, it can be tinted with earthy tones such as terracotta or ochre, adding warmth and depth to the space. The texture of plaster can also be customized, ranging from smooth and polished to rough and textured, depending on the desired aesthetic.
Benefits of Plaster in Mediterranean Decor:
Smooth and elegant finish
Regulates humidity
Wide range of color options
Customizable texture
Stone: A Timeless Element
Stone is another essential material in Mediterranean decor, known for its durability and timeless appeal. From limestone to travertine, stone brings a sense of authenticity and natural beauty to any space. In Mediterranean architecture, stone is commonly used for flooring, walls, and even outdoor areas such as courtyards and patios.
One of the standout features of stone is its ability to create a seamless transition between indoor and outdoor spaces. By using the same type of stone flooring throughout, the boundaries between the interior and exterior become blurred, allowing for a harmonious flow. Stone also provides excellent insulation, helping to keep the home cool during hot summers and retaining warmth in colder months.
Furthermore, stone can be used as a decorative element in Mediterranean decor. From grand archways to intricate carvings, stone adds an element of craftsmanship and artistry to the overall design. Whether it is featured in the form of a fireplace surround or a stunning stone staircase, it becomes a focal point that captures attention and adds character to the space.
Benefits of Stone in Mediterranean Decor:
Durable and long-lasting
Seamless transition between indoor and outdoor spaces
Excellent insulation properties
Can be used as a decorative element
The Warmth of Wood
Wood is a staple material in Mediterranean decor, renowned for its warm and inviting qualities. It adds a natural element that softens the overall aesthetic and creates a cozy atmosphere. From exposed wooden beams to rustic furniture, wood brings a sense of charm and authenticity to Mediterranean interiors.
One of the advantages of using wood in Mediterranean decor is its versatility. It can be incorporated in various ways, from flooring and paneling to furniture and decorative accents. The choice of wood species also contributes to the overall look and feel. Darker woods such as mahogany or walnut add richness and depth, while lighter woods like pine or oak create a more casual and airy vibe.
In addition to its aesthetic appeal, wood also has practical benefits. It is a natural insulator, helping to regulate temperature and reduce energy consumption. Wood also has acoustic properties, absorbing sound and creating a quieter environment. These qualities make it an excellent choice for Mediterranean homes, where comfort and tranquility are highly valued.
Benefits of Wood in Mediterranean Decor:
Warm and inviting atmosphere
Versatile material
Natural insulator
Acoustic properties
Gallery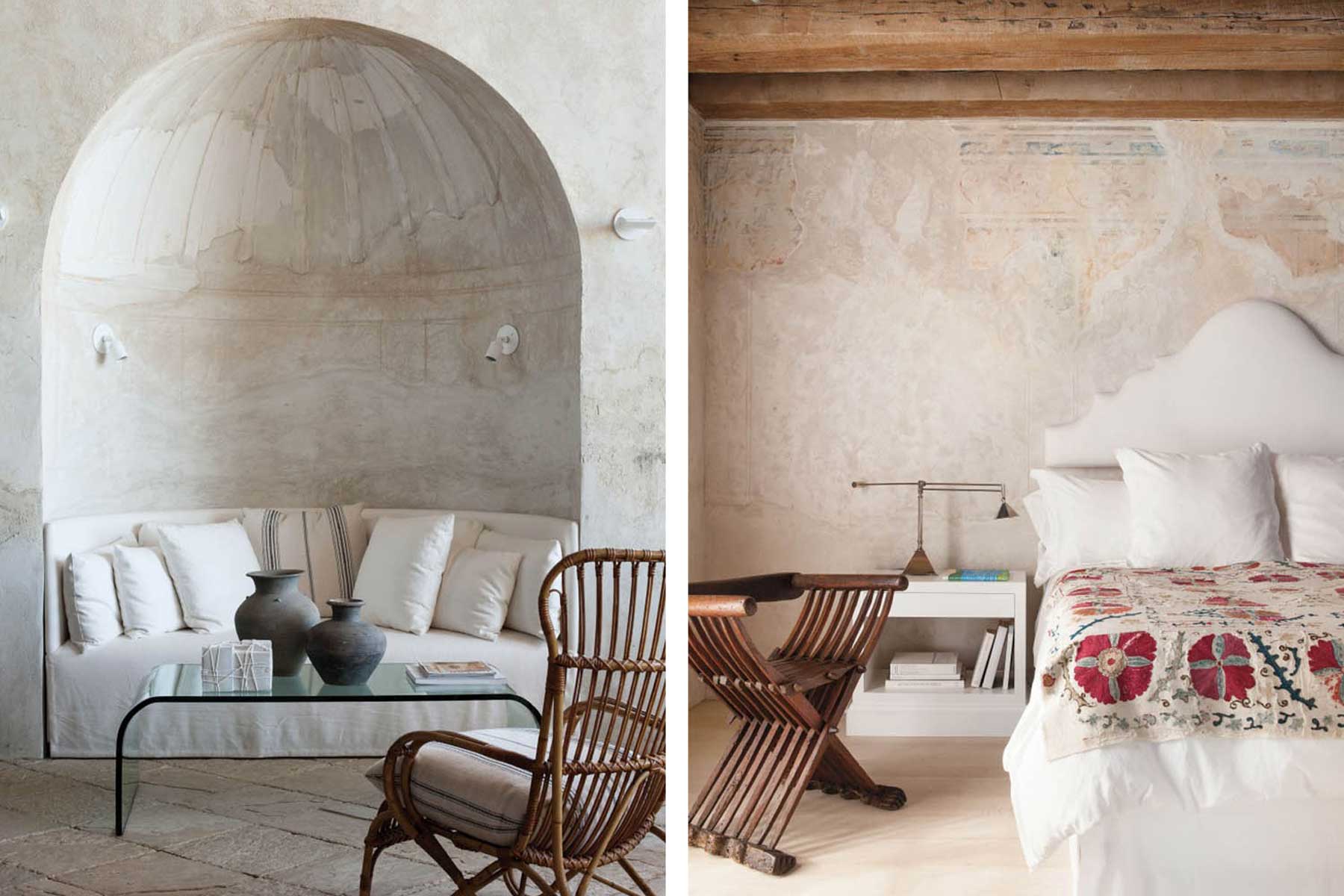 Summary
Plaster, stone, and wood are integral elements in Mediterranean decor, each bringing its unique qualities and enhancing the overall aesthetic. Plaster provides a smooth and elegant finish while regulating humidity. Stone adds durability and timelessness, seamlessly connecting indoor and outdoor spaces. Wood brings warmth and versatility, creating a cozy and inviting atmosphere. By incorporating these materials in the right balance, one can achieve the authentic charm and timeless beauty of Mediterranean decor.