The Rise of Compact Homes
In recent years, there has been a growing trend towards living in smaller, more compact homes. This shift can be attributed to various factors, including rising property prices, an increasing desire for sustainable living, and a shift towards more minimalist lifestyles. While living in a smaller space may seem challenging, it also presents an opportunity for creative design solutions. One such design style that has gained popularity in compact homes is mid-century design.
Understanding Mid-Century Design
Mid-century design refers to the architectural and interior design style that emerged in the mid-20th century, roughly between the 1940s and 1960s. This design movement is characterized by clean lines, organic forms, and a focus on functionality. It embraces simplicity and aims to create a harmonious balance between form and function.
The Principles of Mid-Century Design
There are several key principles that define mid-century design:
Simplicity: Mid-century design favors simplicity over ornate details. Clean lines and minimal embellishments are common features.
Form and Function: The design places equal emphasis on both form and function. Furniture and objects are designed to be both aesthetically pleasing and practical.
Natural Materials: Mid-century design often incorporates natural materials such as wood, leather, and metal. These materials add warmth and texture to the space.
Integration with Nature: Many mid-century homes feature large windows and open floor plans, blurring the boundaries between indoor and outdoor spaces.
Iconic Furniture: Mid-century design is known for its iconic furniture pieces, such as the Eames Lounge Chair and the Saarinen Tulip Table. These pieces have become timeless classics.
Applying Mid-Century Design to Compact Homes
While mid-century design was originally associated with larger homes, its principles can be successfully applied to compact living spaces. Here are some ways to incorporate mid-century design into small homes:
Optimize Space with Clever Storage Solutions
In a small home, maximizing storage space is crucial. Mid-century design offers various storage solutions that are both functional and aesthetically pleasing. Built-in cabinets and shelves can be integrated into the walls, utilizing vertical space and minimizing clutter. Furniture with hidden storage compartments, such as coffee tables with lift-up tops or ottomans with removable lids, can also help keep the space organized.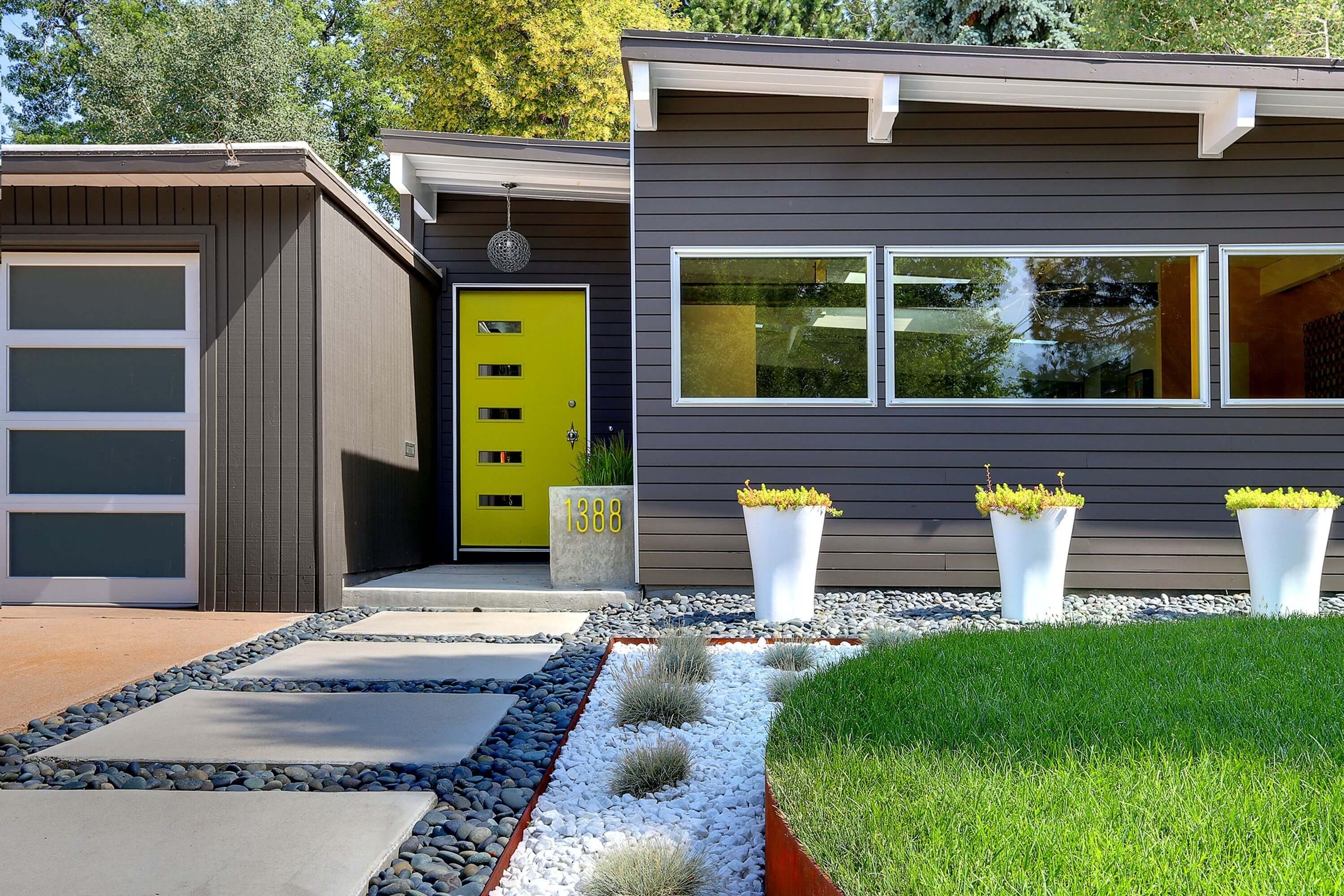 Keep Furniture Simple and Multifunctional
When it comes to furniture selection, opt for pieces that have clean lines and a minimalist aesthetic. Mid-century design often features furniture with slender legs, which creates a sense of openness and visual lightness. Additionally, consider furniture that serves multiple purposes. For example, a sofa with a pull-out bed can double as a guest bed, while a dining table that extends can accommodate both everyday meals and larger gatherings.
Embrace Natural Light
In small spaces, natural light plays a crucial role in creating a sense of openness and airiness. Mid-century design often incorporates large windows and skylights to maximize natural light. If privacy is a concern, consider using sheer curtains or blinds that allow light to filter through while maintaining some level of privacy. Additionally, strategically placing mirrors can help reflect light and make the space appear larger.
Add Retro Accents
To enhance the mid-century vibe in a compact home, consider incorporating retro accents. These can include vintage-inspired lighting fixtures, geometric patterns, and bold colors. Adding a statement piece, such as a retro-inspired armchair or a vibrant area rug, can instantly transform the look and feel of the space.
Create an Open Floor Plan
An open floor plan is an effective way to make a small space feel more spacious and connected. If feasible, consider removing non-load-bearing walls to create an open layout. This allows for better flow and maximizes the use of available space. However, it is important to consult with a professional before making any structural changes to ensure the integrity of the building.
The Benefits of Mid-Century Design in Compact Homes
Choosing mid-century design for a compact home offers numerous benefits:
Efficient Use of Space: Mid-century design emphasizes functionality, making it ideal for small spaces. Every square inch is carefully considered to ensure efficient use of space.
Timeless Appeal: Mid-century design has withstood the test of time and continues to be relevant and admired today. By incorporating mid-century elements into a compact home, you create a timeless and enduring aesthetic.
Enhanced Comfort: Mid-century design focuses on creating a harmonious and comfortable living environment. The integration of natural materials and simple yet functional furniture enhances the overall comfort of the space.
Increased Value: Mid-century design is highly sought after, and homes with mid-century elements often command a premium in the real estate market. By incorporating mid-century design into a compact home, you can potentially increase its value.
Conclusion
Living in a compact home does not mean sacrificing style and functionality. By embracing mid-century design principles, you can create a space that is both visually appealing and efficient. From clever storage solutions to simple and multifunctional furniture, mid-century design offers numerous strategies for maximizing the impact of small spaces. By incorporating these design elements, you can transform a compact home into a stylish and comfortable oasis.