Introduction
A well-organized closet not only saves time but also adds aesthetic value to your living space. One essential element of closet organization is a stylish shoe rack. Shoe racks help keep your shoes in proper order, prevent clutter, and protect them from damage. In this article, we will explore some of the best shoe racks for closet organization, providing valuable insights into their features, benefits, and how they can enhance your closet organization. Let's dive in!
The Importance of Closet Organization
1. Maximizing Space
One of the main benefits of closet organization is maximizing space utilization. A well-organized closet allows you to make the most of the available space, ensuring that every inch is utilized efficiently. By incorporating a stylish shoe rack into your closet, you can easily store and access your shoes without wasting precious space.
2. Protecting Your Shoes
Shoes are an investment, and proper storage is crucial to protect their quality and appearance. Shoe racks provide a dedicated space for each pair, preventing them from getting scuffed or damaged. They also help maintain the shape of your shoes, preserving their longevity.
3. Easy Accessibility
A cluttered closet can be frustrating when you're in a rush. With a shoe rack, you can easily find the pair you need without digging through piles of shoes. Shoe racks offer convenient accessibility, allowing you to grab your favorite pair and be on your way in no time.
Types of Shoe Racks for Closet Organization
1. Over-the-Door Shoe Racks
Over-the-door shoe racks are perfect for those who have limited closet space. These racks hang over the back of a door, utilizing unused vertical space. They typically feature multiple tiers and can hold several pairs of shoes. Over-the-door shoe racks are easy to install and offer quick access to your shoes.
2. Stackable Shoe Racks
If you have a sizable shoe collection, stackable shoe racks are an ideal choice. These racks consist of individual tiers that can be stacked vertically. They provide a space-efficient solution, allowing you to stack as many tiers as needed based on the number of shoes you own. Stackable shoe racks are versatile and can be adjusted to fit various closet sizes.
3. Shoe Cubbies
Shoe cubbies are perfect for those who prefer a neat and organized closet. These racks feature individual cubbies or compartments for each pair of shoes, keeping them separated and easily visible. Shoe cubbies are great for people with a moderate shoe collection as they provide a clear display and quick access to your shoes.
Top Picks for Stylish Shoe Racks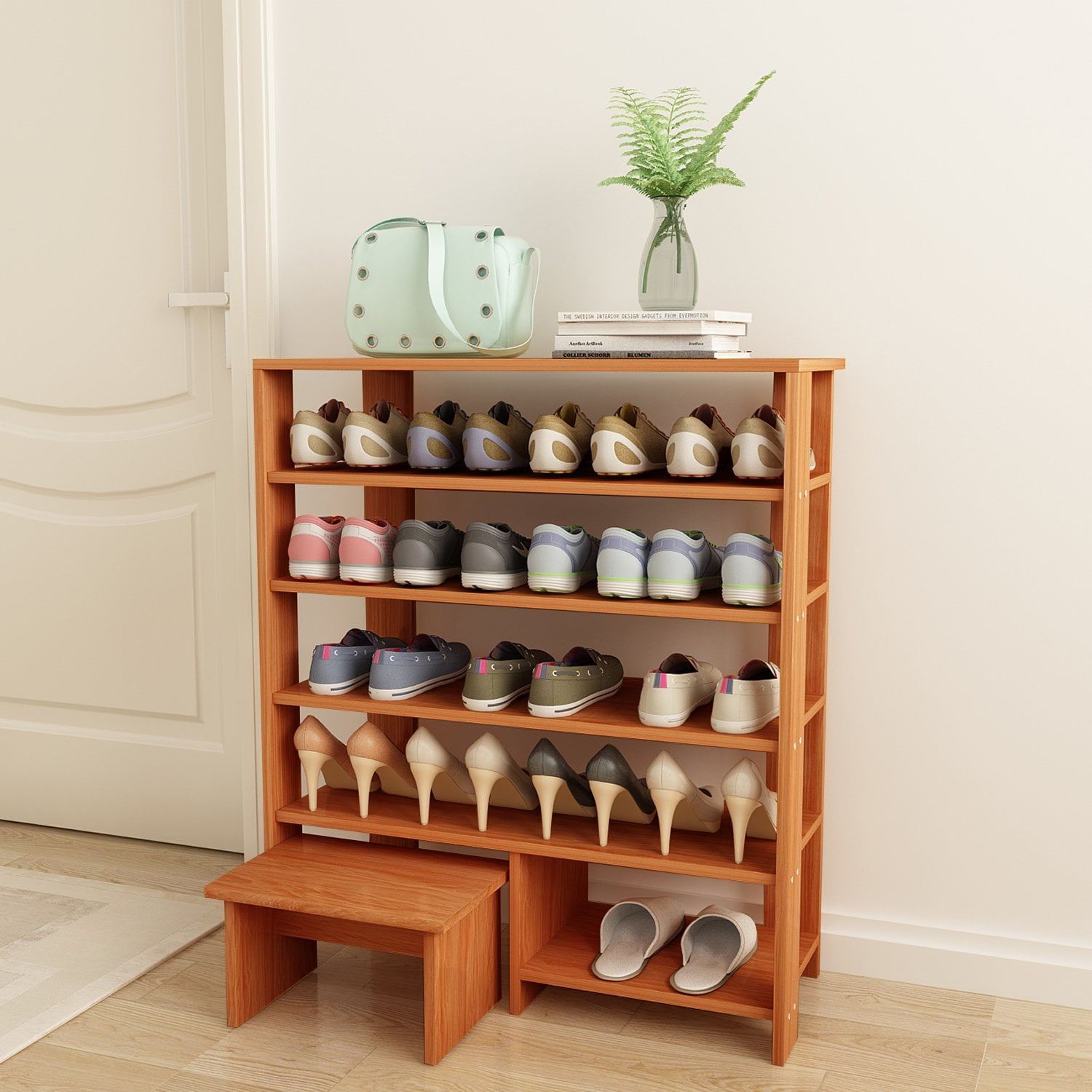 1. Umbra Imelda Shoe Rack
The Umbra Imelda Shoe Rack is a stylish and space-saving option. It features a sleek design with two metal frames and mesh shelves. This shoe rack can hold up to 10 pairs of shoes, providing ample storage without taking up too much space. The open design allows for easy visibility and accessibility to your shoes.
2. SONGMICS 10-Tier Shoe Rack
For those with a larger shoe collection, the SONGMICS 10-Tier Shoe Rack is an excellent choice. This shoe rack offers a generous storage capacity of up to 50 pairs of shoes. With its sturdy construction and non-woven fabric shelves, it ensures durability and protection for your shoes. The 10-tier design allows for easy organization and quick access to your entire shoe collection.
3. ClosetMaid 8983 Stackable Shoe Organizer
The ClosetMaid 8983 Stackable Shoe Organizer is a versatile option that can be customized to fit your closet space. This stackable shoe rack features a durable wood construction with a white laminate finish. With its stackable design, you can add multiple units to create a shoe storage solution that perfectly fits your needs. Each unit can hold up to 15 pairs of shoes, providing ample space for your collection.
Summary
A stylish shoe rack is a must-have for efficient closet organization. It maximizes space utilization, protects your shoes from damage, and offers easy accessibility. Whether you opt for an over-the-door shoe rack, stackable shoe rack, or shoe cubbies, there are plenty of options to suit your needs. The Umbra Imelda Shoe Rack, SONGMICS 10-Tier Shoe Rack, and ClosetMaid 8983 Stackable Shoe Organizer are three top picks known for their style and functionality. By incorporating these shoe racks into your closet, you can achieve a well-organized and visually appealing space.